Ad blocker interference detected!
Wikia is a free-to-use site that makes money from advertising. We have a modified experience for viewers using ad blockers

Wikia is not accessible if you've made further modifications. Remove the custom ad blocker rule(s) and the page will load as expected.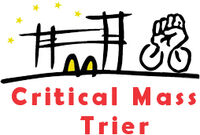 Home > List of rides > Germany > Trier   Look up on Google / Wikipedia
The first Critical Mass bike ride in Trier took place on July 20, 2007 with 30 cyclists [1]. The cyclists decided to ride now continuously every last friday of the month, startting at the Viehmarkt Platz in front of the antique roman thermal springs. Acceleration time varies (participant talk about the next starts at each ride on Facebook and Twitter).
References
Edit
{{#dpl: |category = Germany |category = Ride_locations |notcategory = Countries |notnamespace = Category |notnamespace = File |notnamespace = Template |mode = inline |inlinetext =   •  
}}