Home > List of rides > United States > Starkville, Mississippi   Look up on Google / Wikipedia
The Starkville Critical Mass was started in the summer of 2008 with 4 people. Today it's grown to about 20-25 people every month-and we hope to keep growing!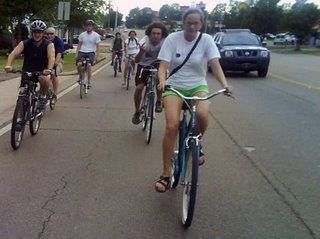 Over the past couple of years, Starkville has become much more biker friendly. The Mississippi State University campus has started a bike share program which we hope will be extended to the whole city in the near future. Starkville has also implimented many new bike lanes with more to come.
Ad blocker interference detected!
Wikia is a free-to-use site that makes money from advertising. We have a modified experience for viewers using ad blockers

Wikia is not accessible if you've made further modifications. Remove the custom ad blocker rule(s) and the page will load as expected.