Ad blocker interference detected!
Wikia is a free-to-use site that makes money from advertising. We have a modified experience for viewers using ad blockers

Wikia is not accessible if you've made further modifications. Remove the custom ad blocker rule(s) and the page will load as expected.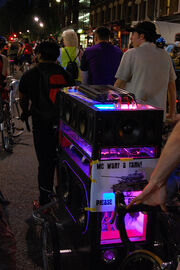 Bicicyle sound systems are sometimes used in Critical Mass rides. Thereby the celebratory characater similar to costumes or special bikes (e.g. tall bikes) will be underlined.
Distributed Sound Systems
Edit
(mobile) Distributed Sound Systems
Edit
by Jimmy Vex of S(band)EX
Talk about (mobile) distributed sound systems. (flashplayer required)
{{#dpl: |category = Glossary |notcategory=Pages in German |notcategory=Texts |notnamespace=Category |notnamespace=Template |mode = inline |inlinetext =   •   }}