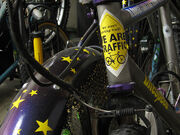 Slogans used in context to Critical Mass rides:
Wir blockieren nicht den Verkehr, wir sind der Verkehr! (de)
No bloqueamos el tráfico, somos el tráfico! (es)
Nous ne bloquons pas la circulation, nous sommes la circulation! (fr)
אנחנו לא חוסמים את התנועה, אנחנו התנועה! (he)
Trafiği tıkamıyoruz, trafik biziz! (tr)
אוטו אחד פחות (he)
Un auto menos (es)
Pedaleá todos los días, celebralo una vez al mes (es)
Whose streets, our streets!
Critical Mass wird nicht veranstaltet, Critical Mass findet statt (de)
Die Autofahrer stehen nicht im Stau, sie sind der Stau. (de) [2]
Les voitures ne sont pas dans un bouchon, elles sont le bouchon! (fr)
No oil!
Front side of a banner: "Honk if you like bicycles" Back side:"Thank you for waiting" [3]
Other version: Honk if you ♥ bikes! [4]
Bicycling is not a crime!
The revolution will not be motorized [5]
Burn fat no oil! [6]
Criminal Mass? [7]

Used in conjunction with repressions against some local Critical Mass rides.
There is also a film with the name Criminal Mass.

Don't be a gashead - ride a bike! [8]
Mass if you are critical! [9]
Viva la velorution! [10] [11]
Traffic: It's not just for cars anymore! [12]
Tritt für tritt ins Paradies - mit dem Fahrrad für die Freiheit (de) [13]
¡Bicis sí! ¡Autos no! (es)
References
Edit
{{#dpl: |category = Glossary |notcategory=Pages in German |notcategory=Texts |notnamespace=Category |notnamespace=Template |mode = inline |inlinetext =   •   }}