Oakland, California
Talk

0
392pages on
this wiki
Home > List of rides > United States > Oakland, California   Look up on Google / Wikipedia
Ride details
Edit
Day: First Friday of every month.
Time: Meet 8:00pm.
Location; The BikeLink bike lockers at 14th and Broadway in the heart of Downtown Oakland.
This fun bike party was started less than 2 years ago and is experiencing growing pains. Although generally small, the ride has had as many as 40+ riders. Cafe sitters and other pedestrians cheer on the ride as it passes through Broadway, Grand Av, around Lake Merrit, Park Av, Piedmont Av, E. 12th St., etc. The ride usually ends up at 23rd & Telegraph where Oakland's First Friday Art Murmur (http://www.oaklandartmurmur.com/pages/about.php) is underway.
Mass transportation and transbay travel to the ride meet-up location
Edit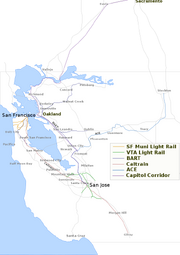 CalTrans Bike Shuttle
Edit
Still other riders take the cheapest way over to Oakland, the $1.00 CalTrans bike shuttle, a 15 passenger microbus, operated by the California Department of Transportation, which tows a bike carrying trailer which offers service from San Francisco to the MacArthur Bart Station.
Pick-up points for Bay Bridge Bicycle Shuttle: San Francisco:Transbay Terminal Building Treasure Island:Bay Bridge Bus Stops Oakland: MacArthur BART Station
Schedule: Weekday Evenings: Leave San Francisco 3:50 p.m.;4:40 p.m.;5:30 p.m.;6:15 p.m.
Directions from MacArthur Bart down to the ride meet-up location: exit the station and ride out to Telegraph Avenue, the major avenue to the immediate north east of the BART station parking lot. Make a right turn and ride "down" Telegraph Avenue towards downtown Oakland. If you don't see tall skyscrapers ahead of you, you're going the wrong direction (toward Berkeley.) Ride all the way down Telegraph into the heart of Downtown Oakland, and make a right turn at Broadway where Telegraph ends at a diagonal intersection, across from 15th Street Ride up one more block to 14th and Broadway. The meet-up location is right there next to the Bike Link bike lockers at Frank Ogawa Plaza.
During "Commute Hours", Weekdays approximately 4:25pm to 6:45 pm, Mass riders from San Francisco and other municipalities taking BART to the rides are officially prohibited from exiting with their bikes at the 12th St and 19th St. Stations. There are also restrictions on bikes aboard BART in the commute hours traveling east from San Francisco. (Need blackout time detail) As you may well know, these blackout rimes are a source of great frustration for cyclists on either side of the bay. As of this writing the San Francisco Bicycle Coalition is working on reducing or elimnating this blackout period: http://www.sfbike.org/?bart
In keeping with the anarchistic spirit of the rides, some riders break the bike rules and exit BART with their bikes at the 12th St and 19th St. Stations downtown Oakland anyways. Many of them exit the stations from the less busy exits from the stations, i.e. 11th St and 19th St., where there is less odds of a station agent or BART cop there to remind them of the bike rules.
BART riders traveling toward Oakland can exit at Lake Merritt BART station at 9th and Oak Streets, for a fare of $2.95 from SF Civic Center, the West Oakland BART station on 7th Street in West Oakland, or the Macarthur BART station on Telegraph Avenue in North Oakland.
Folded bikes are allowed on all BART trains, and anywhere in any BART station, at all times. During 'commute hours', folding bikes must be folded before entering the paid area at the Embarcadero, Montgomery, Powell, and Civic Center San Francisco Stations, At all other stations, they may be folded on the platform, but must be folded before boarding a train.
Oakland/Alameda Ferry
Edit
Other riders take the Oakland/Alameda Ferry from the Ferry Building in San Francisco to the Ferry Terminal on Water Street at Jack London Square, for a fare of $6.25 each way, before riding the 18 or so blocks to the ride meet-up location. There are no bicycle blackout restrictions whatsoever on the Oakland/Alameda ferry, and riders may bring bikes aboard all of the fleet's ferries.
The 5:20p.m. ferry leaves San Francisco's Ferry Building at 5:20p.m. and arrives at Oakland's Jack London Square Ferry Terminal at 5:50p.m.
AC Transit
Edit
Other riders take the $3.50 AC Transit NL Limited Transbay Bus from lane one of the Transbay Terminal at 1st and Mission Streets in San Francisco, to the corner of 20th and Broadway in Downtown Oakland. However, these buses can only fit 2 bikes on their racks, so this should not be considered a reliable way to arrive to the Oakland ride.
{{#dpl: |category = California |category = Ride_locations |notnamespace = Category |mode = inline |inlinetext =   •  
}}