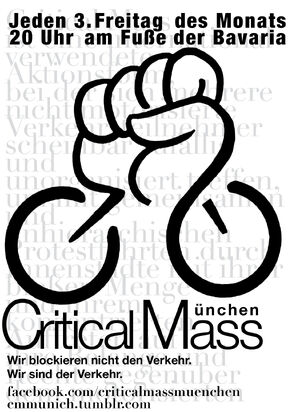 Home
>
List of rides
>
Germany
> Munich  
Look up on Google / Wikipedia
A Critical Mass bicycle ride in Munich took place on 22.June 2007 with 50 participians, another one in January 2009 and February 2010. March was to wet, but CMs are now every Month!
Ride time and location
Edit
Every last friday of the month 6.00 p.m. Max-Joseph-Platz & at the feet of the Bavaria at 8.00 p.m.
Its difficult to trace first Critical Mass rides in Munich. First documented Critical Mass found in internet, was on the occasion of the Carfree Day on September 23, 2005. A ride with 60 participians was held [1]. The author wrote that there were such rides before.
Rides in the earlier past were held in 1999. [2]
Since last year (2012) there are Critical Mass rides in Munich again!
References
Edit
↑

The old Critical Mass Munich homepage