Home > List of rides > Slovenia > Maribor, Slovenia   Look up on Google / Wikipedia
We are organizing Critical mass event in Maribor on 29th of May 2010.
The CM will be held as a part of re-opening event of old cinema hall, which was closed since 2004.
Now some young people started to revitalise this hall in the town center and brand it as a "bike friendly" cinema.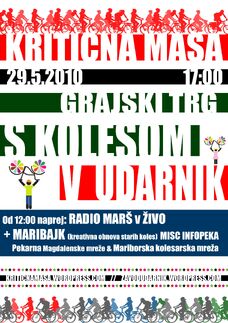 More info about Critical mass Maribor:
http://kriticnamasa.wordpress.com/
And here you can join to Facebook group Kritična masa:
http://www.facebook.com/home.php?#!/group.php?gid=117120684993437&ref=ts