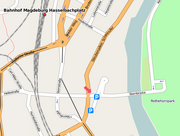 Home > List of rides > Germany > Magdeburg   Look up on Google / Wikipedia
First Critical Mass bike ride in Magdeburg took place on 29. June 2007 with 5 cyclists.
In January 2009 we restarted the Critical Mass with 7 cyclists.
We are a few bike-lovers restarted the Critical Mass in Magdeburg and now try to establish it again. Everyone is welcome to join us!
The last ride took place on Wednesday the 5th august of 2009 with about 50 people.
The current monthly date is the first Wednesday of the month, 7:00pm. The meeting point is on Sternbrücke.
According to this, the next ride takes place on 2nd September of 2009. Join it!
Date changed in 2o14 to the first friday of the month! Next ride according to this o4.o4.2o14, 7pm, Sternbrücke.
Date changed in 2o14 again: Most common CM-Date worldwide, every last friday of month! Next Ride: 29.o5.2o15, 7pm, Sternbrücke.
{{#dpl: |category = Germany |category = Ride_locations |notcategory = Countries |notnamespace = Category |notnamespace = File |notnamespace = Template |mode = inline |inlinetext =   •  
}}