Home > List of rides > United Kingdom > Leeds   Look up on Google / Wikipedia
Ride time and location
Edit
Leeds Critical Mass meets at 5.30pm on the last Friday of every month in Millennium Square, near the city centre, everyone welcome. We set off just after 6pm, for a nice steady lap of the city centre.

The mass was re-started to remember Kate Furneaux. See Indymedia article for info.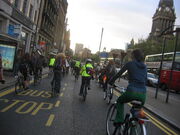 Flyers and resources
Edit
Updates about critical mass events can be found at Green Actions web site: http://www.greenactionleeds.org.uk/category/events/critical-mass-bikes
There are also one to hand out to explaining who we are can be downloaded from http://www.greenactionleeds.org.uk/critical-mass-flyers-content .There is another to hand out to riders to explain safety on the mass.
Next ride
Edit
Update August 2015: critical mass continues, same time same place every month! About Critical Mass
Critical Mass is a monthly cycle ride open to everyone, which takes place in cities all over the world. It started in 1992 in San Francisco and is a leaderless organisation. Critical Mass has the loose aims of promoting awareness of cyclists to motorists who often drive dangerously around cyclists and also aims to promote cycling as a healthier and an environmentally sustainable alternative to using the car. It is also a course a good time just to have a fun ride with fellow cyclists and make new friends. For more info see: Critical mass on Wikipedia