Home > List of rides > Germany > Hannover   Look up on Google / Wikipedia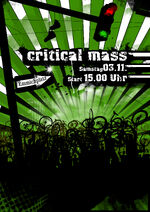 First Critical Mass bike ride in Hannover was on May 18, 2007 with around 55 cyclists.
Ride time and location
Edit
Every last friday at 6.30 pm at Klagesmarkt/ Am Postkamp.
(In 2007 some rides were held at Emmichplatz on the third friday of the month and it were some additional rides.)
The CM on October 26, 2007 was stopped after 2 kilometers from 20 policemen in 5 cars. This is a lot for only 12 cyclists.
Article by Hannoversche Allgemeine Zeitung on a critical mass ride in Hanover in February 2014
See Hannover/Videos.
Critical Mass
Other Hanover cycling links
{{#dpl: |category = Germany |category = Ride_locations |notcategory = Countries |notnamespace = Category |notnamespace = File |notnamespace = Template |mode = inline |inlinetext =   •  
}}