Home > List of rides > New Zealand > Gisborne, New Zealand   Look up on Google / Wikipedia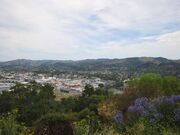 Critical Mass in Gisborne (NZ)
Edit
on the last Friday of each month.

12.15pm assemble at The Marina carpark then depart 12.30pm, bike around arrive at Soho for a debrief and drink (or back to work) by 1pm.
This year GDC will install cycle lanes along Rutene, Roebuck, Stanley and Lytton Roads, and a continue the Turanganui Walkway/Cycleway project (650m) from Reads Quay to Waikanae Bridge. No further developments have been budgeted for after these developments.

For the really keen, here are some policy/plan suggestions for consideration/discussion amongst interested individuals/groups and with GDC:
accelerate the timeframes in the Walking & Cycling Strategy [1] for establishing cycle corridors throughout the city, road user education programmes and incentives for residents (and visitors) to walk and cycle instead of drive within the city;
ensure that the WCS actions have financial resources assigned to them within the 2009-2019 Long Term Council Community Plan;
investigating the passing of a by-law prohibiting the sale of alcohol in glass bottles by businesses with off-licenses (breweries argue that glass keeps the product colder longer);
re-establish and support a community advisory group (including the groups who made submissions during the public consultation in 2003-2004 and cycling groups) to regularly monitor the implementation of the Walking & Cycling Strategy;
undertake a formal review of the WCS in 2009 to confirm the identified priorities and plans are still supported by the wider community and initiatives take into account subsequent policy and technology/planning developments;
establish a contracted or part-time (0.2FTE) position within GDC to identify and secure funding from outside of GDC to bring forward the implementation of WCS actions.

Contact: Manu Caddie (manu[at]ahi.co.nz or 0274202957) for more information.
{{#dpl: |category = New Zealand |category = Ride_locations |notcategory = Countries |notnamespace = Category |notnamespace = File |notnamespace = Template |mode = inline |inlinetext =   •  
}}