Ad blocker interference detected!
Wikia is a free-to-use site that makes money from advertising. We have a modified experience for viewers using ad blockers

Wikia is not accessible if you've made further modifications. Remove the custom ad blocker rule(s) and the page will load as expected.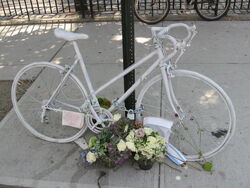 A Ghostbike is a white painted junk bike fixed to the site where a cyclist was killed or hit by a car. It is a memorial to the dead cyclist and a reminder to share the road with one another.
{{#dpl: |category = Critical_Mass_related |notnamespace=File |notnamespace=Template |notnamespace=Category |notcategory=Pages in German |mode = inline |inlinetext =   •   }}