Ad blocker interference detected!
Wikia is a free-to-use site that makes money from advertising. We have a modified experience for viewers using ad blockers

Wikia is not accessible if you've made further modifications. Remove the custom ad blocker rule(s) and the page will load as expected.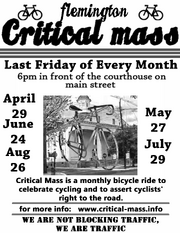 After riding my bike around Flemington the past months, and walking as well, I noticed how rude drivers are to cyclists here especially to minorities. I've observed a hand full of cyclists riding on sidewalks, but the sidewalk is for pedestrians, the road is for wheels. This being said, Flemington is in need of awareness and means of safety for bicycle riding.
Meet up at the Old Court House (Main St/Court St) at 6:00pm, riding will begin at 6:20pm on the dot. The ride ends when the last person leaves.

Bring a bike/skateboard/roller blades/scooter/unicycle/etc, some friends, and a good spirit.

http://www.myspace.com/flemingtoncriticalmass
NJ Bike Laws (read up): http://www.state.nj.us/transportation/commuter/bike/