Ad blocker interference detected!
Wikia is a free-to-use site that makes money from advertising. We have a modified experience for viewers using ad blockers

Wikia is not accessible if you've made further modifications. Remove the custom ad blocker rule(s) and the page will load as expected.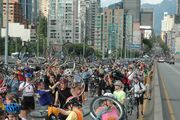 Chicago hold-up ist eine Tradition, die Fahrräder während einer Critical Mass Fahrt hochzuheben. Es ist auch als "bike lift" oder "bike salut" bekannt und eine spontane und symbolische Geste, die regelmäßig während des Überquerens von Kreuzungen in Chicago von Korkern ausgeführt wird, die die anderen RadfahrerInnen sichern. Der Begriff datiert auf Chicagos erste Critical Mass Fahrt am 5. September 1997 zurück.
Andere Städte führen diese Geste auch aus. Das Hochhalten der Räder hebt den Status von Fahrrädern als überlegene urbane Fahrzeuge hervor und soll auch Solidarität gegenüber anderen RadfahrerInnen zeigen. [1], [2]

Ein-Hand Chicago hold-up, vorgeführt von einem smiley ;-)
References
Edit
{{#dpl: |category = Glossary |notcategory=Pages in German |notcategory=Texts |notnamespace=Category |notnamespace=Template |mode = inline |inlinetext =   •   }}