Home > List of rides > United States > Dayton, Ohio   Look up on Google / Wikipedia
Courteous Mass - Dayton
Edit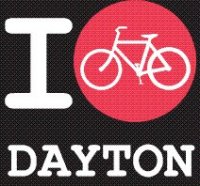 Courteous Mass rides are fun, free events the First Friday of every month at 5:30 pm. We meet downtown at the plaza in front of Fifth Third Field (the Dragons' stadium). All you need to bring is a bike and maybe some lights for the colder and darker months.
And the First Friday Art Hop is right after our ride - you can hang out downtown all evening.
What is "Courteous Mass"?
Edit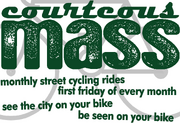 Courteous Mass is a monthly street cycling ride in Dayton, Ohio. Our purpose is to have fun, see the city from our bikes, and be seen on our bikes. Check out this video of our
April 2009
ride
For many in Dayton, cycling means bike trails - with good reason because we have so many beautiful trails. But few are willing to a bike out on the streets; very few motorists expect to see bikes sharing the road. It makes the Dayton area bike unfriendly. Courteous Mass aims to change that if we can. Ride with us and see how easy and fun urban cycling is. Ride with us and let the drivers see cyclists in Dayton!
Mass - with a difference
Edit
Courteous Mass rides have an important difference from usual Critical Mass rides. Courteous Mass encourages observance of all traffic laws by cyclists during our ride. We do not organize riders to block ("cork") intersections. Riders are encouraged to obey traffic signals, use hand signals for turns and lane changes, and to make only friendly gestures to motorists.
Why? Because Critical Mass tactics amount to civil disobedience - a time honored way to protest denial of rights. But in Ohio, cyclists already have all the rights we need to bike the streets. We don't need to protest; we need to be visible and respected. Courteous Mass stands for the proposition that sharing the road is a two way street, and if we demonstrate our good will and our numbers, motorists will respect and expect to see cyclists.
By the way, this wasn't invented in Dayton. Athens, GA, Atlanta, GA and Boston, MA each have Courteous Mass rides dedicated to law-abiding street rides.
Ride Details
Edit
What: Courteous Mass Dayton - Urban Cycling Rides
When: First Friday of every month
Time: Gather starting after 5:00 pm, ride is at 5:30 pm
Where: Plaza in front of Fifth Third Field (Patterson at Monument)
Cost: Free. All you need to bring is a bike.
Contact: Uli Fiedler 937-212 9150
E-Mail: courteousmassdayton@yahoo.com
{{#dpl: |category = Ohio |category = Ride_locations |notnamespace = Category |mode = inline |inlinetext =   •  
}}