Ad blocker interference detected!
Wikia is a free-to-use site that makes money from advertising. We have a modified experience for viewers using ad blockers

Wikia is not accessible if you've made further modifications. Remove the custom ad blocker rule(s) and the page will load as expected.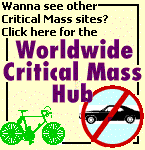 Michael Bluejay's critical-mass.info web site seems to be the most known Critical Mass hub. We can not image Critical Mass without his critical-mass.info site.
Quotation:
This site attempts to be the most complete guide to local Critical Mass rides around the globe..
The web site offers various information about Critical Mass rides including "How to start a CM ride", the history of CM, many links to other CM sites and of course the listing of CM rides around the world.
{{#dpl: |category = Glossary |notcategory=Pages in German |notcategory=Texts |notnamespace=Category |notnamespace=Template |mode = inline |inlinetext =   •   }}