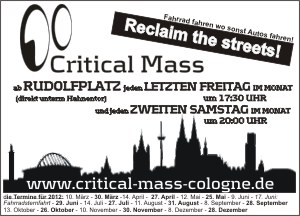 Seit Juni 2010 gibt es in Köln wieder eine Critical Mass, die auch im Winter standhaft durchgeführt wird. Nachdem die ersten Treffpunkte immer am Aachener Weiher waren, startet die Kölner Critical Mass ab Februar 2011 nun etwas zentraler, nämlich am Rudolfplatz, direkt unter dem Hahnentor.
Treffpunkt ist jeder letzte Freitag im Monat um 17:30 Uhr am Rudolfplatz, unter dem Hahnentor.
Um spätestens 18:00 Uhr geht es dann gemütlich durch die Kölner Innenstadt - die Strecke bestimmt der, der vorne fährt.
Weitere Informationen gibt es im Weblog der Kölner CM unter Critical Mass Köln.
Ab März 2012 gibt es zusätzlich einen Critical Mass Nightride/Speedride.
Treffpunkt ist jeder 2. Samstag im Monat um 20:00 Uhr, ebenfalls am Rudolfplatz, unter dem Hahnentor.
Ad blocker interference detected!
Wikia is a free-to-use site that makes money from advertising. We have a modified experience for viewers using ad blockers

Wikia is not accessible if you've made further modifications. Remove the custom ad blocker rule(s) and the page will load as expected.