Ad blocker interference detected!
Wikia is a free-to-use site that makes money from advertising. We have a modified experience for viewers using ad blockers

Wikia is not accessible if you've made further modifications. Remove the custom ad blocker rule(s) and the page will load as expected.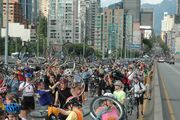 Chicago hold-up is a traditon lifting the bikes in a Critical Mass ride. It is also known as "bike lift" or "bike salute" and a spontaneous and symbolic gesture frequently performed in Chicago while moving intersections by corkers who safe the other cyclists. The term dates back at least to a Chicago Critical Mass bike ride held on September 5, 1997.
It is also spontaneously demonstrated in other cities. [1], [2]

One-hand Chicago hold-up shown by a smiley ;-)
References
Edit
{{#dpl: |category = Glossary |notcategory=Pages in German |notcategory=Texts |notnamespace=Category |notnamespace=Template |mode = inline |inlinetext =   •   }}