Home > List of rides > Busan   Look up on Google / Wikipedia
Other languages:

+/-
English  •  日本語  •  한국어  • 
Busan Critical Mass regulaly take place in Busan Metropolitan City Hall(fountain) on every 4th Saturday 3:00 PM to Nampodong Yongdusan Park.
Riding course
Edit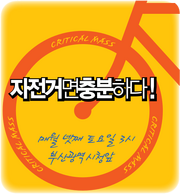 average an hour and half, depending on leader.
Leaders prepare the rectiangular flyers. and you can see a big flyer(3m×3m) when taking picture.
Miscellaneous
Edit
Busan Balbarian(the Korean Critical Mass participants) like to use "Regain the road deprived by car", "My heart beat when meet bicycle!", "Give one lane to bicycle", "This road is not driveway" and "Bicycle, It's enough!" to appeal people.
Anniversary
Edit
In Busan, the Korea biggest harbor, the first Critical Mass took place on 23 September 2006. 80 bicycles rode from Sajik Stadium to Busan Citizen Hall(Jobang Ap).
Korean Critical Masser obey the traffic signals well and ride in a row, so can be called by Critical Manner.
{{#dpl: |category = South Korea |category = Ride_locations |notcategory = Countries |notnamespace = Category |notnamespace = File |notnamespace = Template |mode = inline |inlinetext =   •  
}}