Home > List of rides > UK > Bristol   Look up on Google / Wikipedia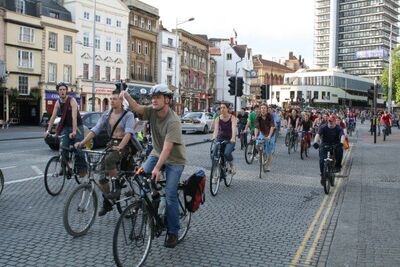 Bristol Critical Mass has been a regular event on and off since at least 2000.
The best place for information on Critical Mass in Bristol is usually the Critical Mass Bristol FaceBook group.
Ride details
Edit
Day: Last Friday every month
Time: Meet 6pm, set off 6.30pm.
Location: The Fountains at the centre (opposite the Hippodrome [1])
Flyers and posters
Edit
Upcoming and Past rides
Edit
October 2009 Halloween Critical Mass!

Other Bristol cycling links:
Dormant sites:
{{#dpl: |category = United Kingdom |category = Ride_locations |notcategory = Countries |notnamespace = Category |notnamespace = File |notnamespace = Template |mode = inline |inlinetext =   •  
}}