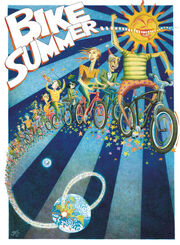 Bike Summer! (also Bikesummer as one word) was an annual international bicycle event since 1999 which has its origins in San Francisco and was intended to expand on the culture of cycling present at Critical Mass. It takes place for about a month every year in different cities mainly in the United States to promote and celebrate the bicycle culture and is an environmental grassroots gathering. It has been organized by the so called ad-hoc committee which changes from year to year. In 2006 the main event has had a break in the United States but there was at least a Bike Summer in Osaka, Japan.
Once held, the city often continues a similar festival under another name, such as Portland's Pedalpalooza and Vancouver's Bike Month now called Velopalooza.
2012
Ad blocker interference detected!
Wikia is a free-to-use site that makes money from advertising. We have a modified experience for viewers using ad blockers

Wikia is not accessible if you've made further modifications. Remove the custom ad blocker rule(s) and the page will load as expected.