Home > List of rides > United States > Baltimore, MD   Look up on Google / Wikipedia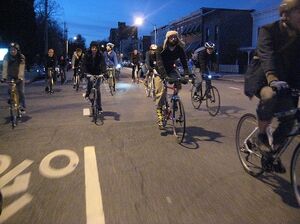 The Baltimore Bike Party (formerly Baltimore Critical Mass) takes place at 7:00pm, the last Friday of every month in Baltimore. Riders meet at St. Mary's Park in the city. Rides often have hundreds of participants, good weather rides number over 1000 participants. Each ride is themed, and many come in costume.

More information can be found at the Baltimore Bike Party website, or their Facebook page https://www.facebook.com/BaltimoreBikeParty.
More on Biking in Baltimore (Links)
Edit
Official Baltimore City Bicycle Website
{{#dpl: |category = Maryland |category = Ride_locations |notnamespace = Category |mode = inline |inlinetext =   •  
}}